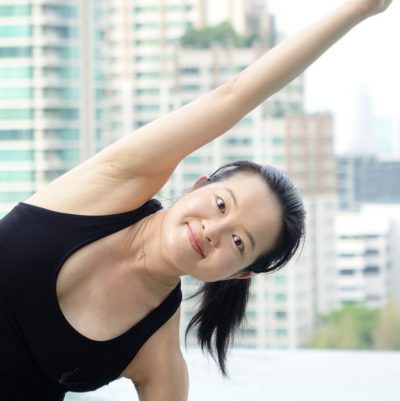 About Jos
My name is Jos and I am a certified (Level 2) Essentrics® instructor, bringing Essentrics® to Hong Kong for the first time. I'm keen to introduce Essentrics® to as many people as I can in Hong Kong, so that they can feel the same benefits as I do when practising Essentrics®.
After suffering from years of lower back pain I was diagnosed, in 2008, with a slipped disc. I spent many hours in physiotherapy and thats when I learned the importance of having a good posture and a strong core. It was the first time I had heard of the term core (when not referring to an apple!).
In 2014 I was visiting family back home in Holland when, out of curiousity, I tried an Essentrics® class at the local gym. After just one class I could feel that my back felt much looser and I walked out of class feeling taller. On that same trip I went back for a few more classes. When I got back to Hong Kong I couldn't stop raving about this wonderful exercise I came across. Since then, I've been enthusiastically learning the techniques and feeling the benefits of regular Essentrics® practice. Essentrics® is such a unique fitness programme, and is different from other fitness workouts I've done in the past. For me, what makes Essentrics® so powerful is that your body feels looser just after one class and, because of its low impact nature, it is suitable for people of all age groups and fitness levels.
I was taking a career break from work and decided to take on the challenge of training to become a certified Essentrics® instructor. During this training I've learned a lot about the body and I'm much more aware of every muscle and joint. I thoroughly enjoy teaching Essentrics®. It's such a rewarding feeling seeing people enjoy the class, feeling the benefits from it, and then seeing them come back again.
I think that everyone finds a fitness program that reasonates with them. I am lucky to have found Essentrics®. I can't wait to share Essentrics® with you!
If you would like to try out an Essentrics® class, please check out my class schedule. Or if you have any questions please feel free to contact me